The study of neuroscience continues to expand.  As the name would suggest, the foundational science is the study of the nervous system which of course, includes the study of the brain.  As the study expands beyond the pure biological investigation, it branches to include the cognitive studies and modeling within computer science, including the study of artificial intelligence (AI).
I recently stumbled across this interesting book: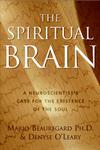 The Spiritual Brain
A Neuroscientist's Case for the Existence of the Soul
By Mario Beauregard, Denyse O'Leary
In this book, the authors discuss the various claims and studies that attempt to locate the "region" of the brain or "God gene" that is responsible for spiritual experiences (the emotion of faith, the sense of the presence of an outside intelligence, the connection to God).  In this they attempt to investigate and answer the question, has God created the mind or does the mind create God. 
Is the brain synonymous with "the mind"?   The brain appears to be the physical fabric in which the mind lives.  Instead of some special area of the brain that is predisposed to invent spiritual experiences, the mind has the ability to "wander" around within the brain, perceiving and communing with the eternal realities.�