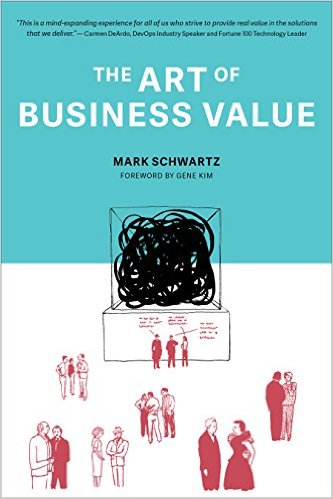 A review of The Art of Business Value by Mark Schwartz
Business value, the north star of Agile, Lean and DevOps champions, is often more difficult to determine than one would imagine. This book takes the reader on a journey to discover that value while along the way, creating helpful mental models, challenging preconceived notions and proposing some creative ways to transform an organization.
The author does a great treatment of ROI (Return on Investment – does anyone ever really measure that?), NPV (Net Present Value), MVA (Market Value Added) and SVA (Shareholder Value Added). I especially enjoyed the humorous practical example that revealed a surprising truth that acquiring an MBA can easily have a negative NPV (in other words, a bad investment!) So save your money and pay attention to the author's "four-paragraph MBA" (p. 20) that unpacks the main two principles learned in an MBA: 1) There is time value of money and 2) A business venture needs a sustainable competitive advantage.
Legacy IT architecture and bureaucracy are often considered negatives and obstacles to progressive competitive relevance but the author brings a refreshing perspective on the "value" of that complex hairball of legacy and rules and the right way to polish and transform them.
On Agile…
"The purpose of an Agile team is to self-organize and meet the underlying business need in the best way possible, often by cutting through the bureaucracy." (p 55)
On DevOps…
"The DevOps model…looks to break down the silos that have resulted from technical specialization over the last few decades. But the DevOps spirit goes further looking to eliminate the conflicting incentives of organizational silos and the inhumane behaviors that can result from those conflicting incentives." (p 48)
On Bureaucracy…
"Bureaucracy delivers business value. Just sometimes not enough." (p 59)
…"developers are bureaucrats by nature. We have a tendency to solve problems by creating standard processes rather than by relying on human judgment." (p 54)
"The pipeline is an automated bureaucracy: it applies its rules in a rigorous, unemotional way, sine ira et studio. That does not mean that the software development process is unemotional; it means that the tools are unemotional and the passion is brought to the process by the people." (p 105)
And on Business Value…
"Business value is a hypothesis held by the organization's leadership as to what will best accomplish the organization's ultimate goals or desired outcomes." (p 90)
I highly recommend this book to IT leaders, digital executives, strategic managers, and anyone seeking to make their organization more agile, effective, relevant, competitive and humane.